EREPUBLIK Fail
De câteva luni am început să încerc sa joc erepublik, jocul multiplayer online.
Azi la autentificare m-a întâmpinat un mesaj frumos: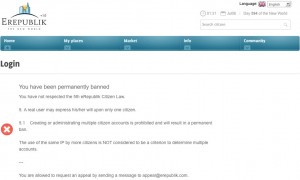 Cică contul meu a fost suspendat pentru că dețin mai multe conturi? Din păcate pentru ei sistemul a dat greș, n-am avut conturi multiple. Sunt curios care e lista conturilor pe care le dețin :).
Utilizatorii se câștigă greu, dacă au mai pățit și alții la fel ca mine, puțin probabil să mai dorească să mai continue.
Enjoyed reading this post?
Subscribe to the
RSS feed
and have all new posts delivered straight to you.