Buton de sterge in FeedDemon3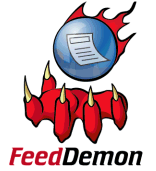 Pentru feed-urile pe care le citesc zilnic folosesc FeedDemon. Știrile care sunt interesante sau la care vreau sa mai revin rămân, iar pe celelalte le șterg. După ce am actulizat de la FeedDemon2.7 la FeedDemon 3 m-am trezit fără butonul de ștergere.
Înainte să revin la versiune anterioară m-am decis totuși să caut prin opțiuni și am găsit: mergem la Tools/Options, click pe tab-ul Reading și apoi click pe Icons. De aici putem selecta ce iconițe și funcționalități să apară.
Enjoyed reading this post?
Subscribe to the
RSS feed
and have all new posts delivered straight to you.